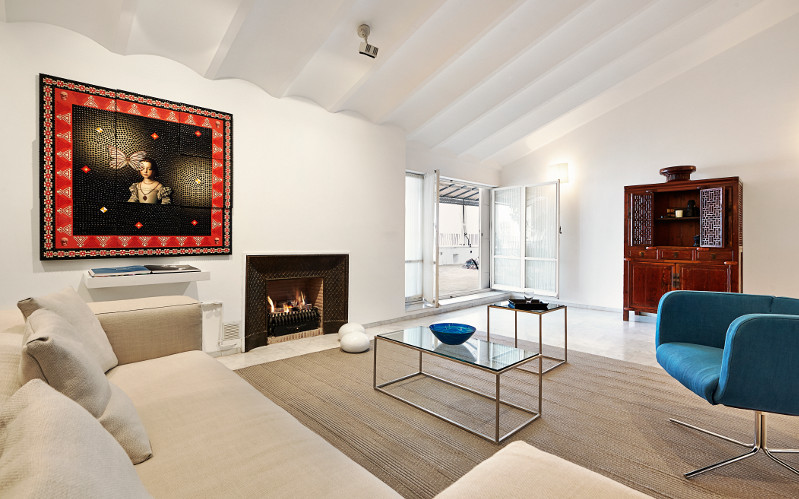 The Ana Serratosa Gallery is a small space in the centre of Valencia whose purpose is allowing to enjoy contemporary art in a closer and more relaxed way.
Our art gallery in Valencia is composed by several exhibition spaces where we intend to show that coexisting with contemporary art is possible.
With more than two decades of experience, our walls have housed a careful selection of contemporary artists of great trajectory, both national and international. Always with the aim in mind of bringing them to the public in a pedagogical, leisurely way and demonstrating how, with the presence of art, the transformation of a space can be achieved.
The attic of Pascual i Genis street, which is the main headquarters of the gallery, in linked to other exhibition space, with industrial touches, completely open-plan and situated next to the City of Arts and Sciences of Valencia. This space creates an union between the projects and the different exhibitions, so that the works can be enjoyed from different perspectives.
One of the most distinguishes characteristics of our gallery is the creation over the years of several outdoor art projects around the city of Valencia, most of them in the Turia riverbed.
From these gardens, the artists Javier Riera, Venske & Spänle, and finally Bob Verschueren, managed to transform this emblematic space in the city of Valencia for a period of time.
Javier Riera and his Alameda Llum Project, a series of projections, transformed trees and bushes into captivating geometric shapes, simply by making use of light.
These projections were followed by an unprecedented invasion of the mythical marble sculptures of the sculptor couple Venske & Spänle, the Smörfs. Their route began in the gardens of the river, and ascended to the city, colonising the Museum of Fine Arts of Valencia, as well as the windows of some of the most renowned shops in the city.
Years later, the Belgian Land Art artist Bob Verschueren made us reflect on the presence of the river and its role in the city through his gigantic sculptures. All these artists, together with five others from the gallery, had the opportunity to participate in our last 2020 project.
The project Inventar el espacio 2020 · Intimidades colectivas consists of the intervention of the common areas of a historic building in the centre of Valencia. With this project we have finally been able to show that coexisting with contemporary art can be a reality.